Press Release: Antigua and Barbuda is pioneering a new way to fund its ecological transition
9th November 2022
Sharm El Sheikh, Egypt
NOAH ReGen has announced the signing of a Memorandum of Understanding with the government of Antigua and Barbuda to develop the financial infrastructure needed for the country to sustainably fund its ecological transition.
Today at the 27th United Nations Climate Change Conference, in Sharm El Sheikh, Egypt, NOAH ReGen announced it will help Antigua and Barbuda's government finance its ecological commitments by unlocking new sources of revenue – such as carbon credits and opportunities in the Blue Economy-, developing a traceable and circular system of reinvestment into UN SDGs and the ability for the government to negotiate Debt-for-Nature swaps using part of the revenue.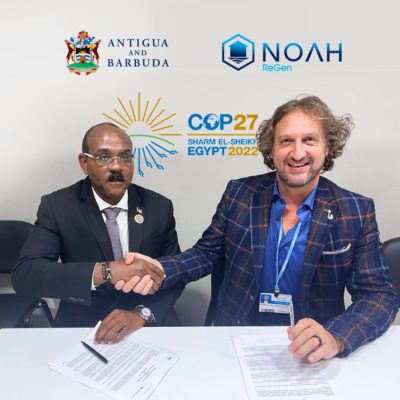 Antigua and Barbuda's Prime Minister, Hon. Gaston Browne NOAH's Founder and CEO Frédéric Degret after signing the MoU.
As the climate crisis intensifies, the twin-island nation Antigua and Barbuda finds itself in an extremely vulnerable situation. Their 98,700 inhabitants live largely on the coast but lack the infrastructure to defend from rising seas and increasingly frequent extreme weather events.
All Small Island Developing States (SIDS) are facing the same challenge. Healthy coastal ecosystems are key to protecting from coastal erosion and other natural hazards. But they currently lack sufficient funding to achieve the commitments made in their respective Nationally Determined Contributions (NDCs) – including 100% renewable energy targets by 2030 and net zero emissions by 2050.
This is why the government of Antigua and Barbuda, led by its Prime Minister, Hon. Gaston Browne, who is the current Chair of the Alliance of Small Island States (AOSIS)  is partnering with  NOAH ReGen. The Caribbean nation aims to become a pioneer by leveraging its ecological wealth – unlocking funds from the carbon market and reinvesting it within a circular, and traceable system. NOAH Regen provides the blueprint for this vision, the technological infrastructure on which to build it, and the multidisciplinary expertise needed to execute it to the highest standards.

"Whilst Antigua and Barbuda and other SIDS await funding arrangements for addressing loss and damage risks from climate change, it is important for us to understand that the existential threats of more frequent and aggressive hurricanes, droughts, and flooding will need significant funding and it is, therefore, timely for us to identify and design potential lines of revenue that can be derived from carbon mitigation and offset credit measures. We expect this collaboration with NOAH ReGen to assist us to address our financial challenges to survive climate change." said Hon Gaston Browne, Prime Minister of Antigua and Barbuda
Once this NOAH Proof of Concept program has been successfully completed for Antigua and Barbuda, this model could be easily rolled out to the rest of SIDS – whose combined Exclusive Economic Zone of SIDS represents more than 25% of the total global marine exclusive economic zone (more than the two largest countries of France and the USA combined.) "Antigua and Barbuda is a perfect pilot country for a global solution," said NOAH's Founder and CEO Frédéric Degret.
The collaboration is now entering phase one. NOAH ReGen will soon begin carrying out a detailed analysis of the nation's Protected Areas and then, together with its international carbon verification partners, identify reliable sources of carbon credits that can be put in the global market and traced along their entire lifespan. The government has already committed to reinvesting the majority of the profits into local sustainability projects, in alignment with the UN's Sustainable Development Goals.
– NOTE TO EDITORS –
NOAH ReGen is an international group offering ocean states a comprehensive solution to fast-track their ecological transition, including tools for valuing their natural resources, unlocking new sources of income (such as carbon credits), attracting private funds, and tracing blended finance projects for maximum impact. Its partnerships include Gold Standard, Global Bank of Commerce, UNWTO and World Ocean Council.
For more information on the subject or to interview one of the members of our team, please contact: 
Laura Secorun – Noah ReGen Press Officer
press@noah.blue
– ENDS –